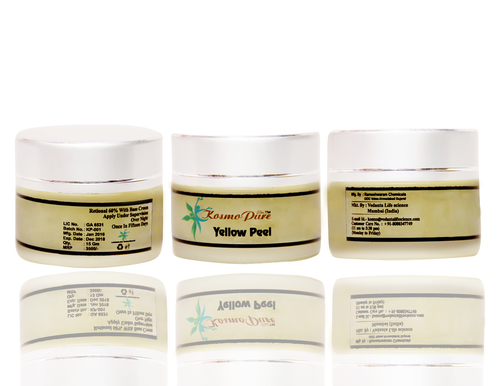 Yellow Peel
Product Code : 09
Product Description
Kosmopure Yellow Peel.....
Kosmopure Yellow Peel Is The Latest And Cream Based Chemical Peel , Which Can Promote The Elimination .Of The Epidermis, At Different Depths. This Peeling Uses The Exfoliant Action Of The Retinol ( In Highconcentration ) Together Action Of ( Niacinamide, Vit C + Vit E ) Which Block The Synthesis Of Melanin By Preventing The Transfer Of Melanin From Melanocytes To Keratinocytes.
This Peeling Is Easy To Apply, And When Repeated, Can Provide The Same Benefits As The More
Aggressive Peelings .
Yellow Peel Should Be Used In A Thing And Continous Layer All Over The Face Or Only In The
Area That Needs Treatment .The Peel Should Be Left On The Skin For A Continous Period Of 12 Hours And Than Removed With Water
Normally This Treatment Can Be Repeated After 2Weeks,Depending On The Type Of Skin Being
Treated Or As Recommened For Treatment Of Melasma, Acne Sequel, Photoaged Skin And Wrinkles


Suggested Use:
Apply On Wet Face.
Apply Under Supervision Over Night Once In Fifteen Days.

Benefits Of Kosmopure Yellow Peel....
Treatment Of Melasma
Acne Sequel
Photoaged Skin And Wrinkles
Anti Ageing
Whitening Insta Glow
Pigmentation Removal....
Accept only bulk inquiries Looking For Distributor.

Contact Us
Mira Road (E), Thane, Mira Bhayandar, Maharashtra, 401107, India
Phone :+917259629080