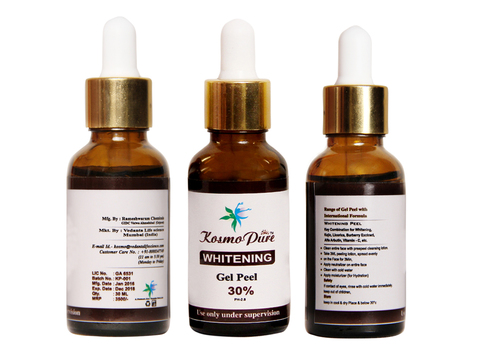 Whitening Peel
Product Code : 09
Product Description
Skin Whitening Peel
Kosmopure Skin Whitening Gel Peel Is The Peel With International Formula
Key Combination:
Kojic, Licorice, Burberry Extract
Alfa Arbutin, Vit C, Etc
The Combination Of Above Mentioned Chemicals Have Been Shown Tremendous Result In
Skin Whitening, Skin Lightening, And Skin Bleaching Refer To The Practice Of Using Chemical Substances In An Attempt To Lighten Skin Tone Or Provide An Even Skin Complexion By Reducing The Melanin Concentration In The Skin.
This Type Of Chemical Peel Can Be Applied Every Two Weeks Until Desired Results Are Achieved. While The Recommended Wait Time Between Procedures Is Two Weeks, Some Individuals Can Handle This Treatment Every Seven To Ten Days.
The 30% Is Very Safe When Used As Directed, But Is A Strong, Professional Strength Peel (Ph 2.8) And Should Be Used Only As Directed.
Kosmopure Whitening Peel Is A Light Peel And Is Suitable For All Skin Types And Both Beginners And Experienced Peelers

Suggested Use:
Skin Whitening.
Skin Lightening.
Improves Skin Texture.
Accept only bulk inquiries Looking For Distributor.
Contact Us
Mira Road (E), Thane, Mira Bhayandar, Maharashtra, 401107, India
Phone :+917259629080