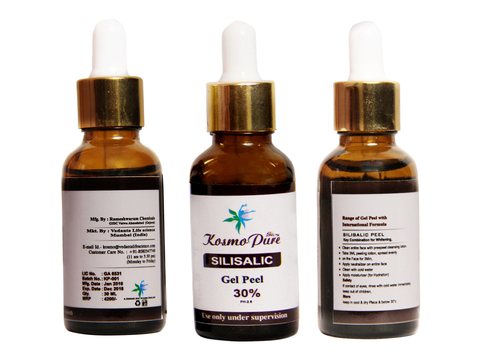 Salicylic Peel
Product Code : 07
Product Description
Kosmopure Salicylic Peel ......
Kosmopure Salicylic Gel Peel Is The Peel With International Formula
This Peel Deal With Acne, And With All The Skin Care Treatments And Procedures Available, A Salicylic Acid Peel Can Be A Possible Solution To Acne Problems For Some Individuals. When Even The Best Skin Care Products Fail To Show Results, Salicylic Chemical Peels Can Provide A More Drastic Solution. If You are Looking To Just Treat Acne, Blackheads, Or Something Similar.

What Is A Salicylic Acid Peel?
A Salicylic Acid Peel Is A Light, Superficial Chemical Peel That Only Affects The Outermost Layers Of The Skin. This Means That The Results Are Limited Only To The Epidermis, And Does Not Damage Deeper Layers. Because The Damage Is More Superficial, A Salicylic Acid Peel Has A Shorter Recovery Time And Less Painful Side Effects. While This Type Of Chemical Peel Will Work On Most Skin Types, The Best Results Are Achieved For Those With Acne-Prone And Oily Skin.Salicylic Acid Peel Works To Improve Several Skin Conditions. Blackheads Salicylic Peel Effects Are Usually Superficial, It Can Diminish Minor Wrinkles And Lines.This Type Of Chemical Peel Can Be Applied Every Two Weeks Until Desired Results Are Achieved. While The Recommended Wait Time Between Procedures Is Two Weeks, Some Individuals Can Handle This Treatment Every Seven To Ten Days.
The 30% Is Very Safe When Used As Directed, But Is A Strong, Professional Strength Peel (Ph 2.8) And Should Be Used Only As Directed.
Kosmopure Salicylic Peel Is A Light Peel And Is Suitable For All Skin Types And Both Beginners And Experienced Peelers.

Suggested Use:

Fine Lines.
Wrinkels.
Sun Damage.
Improves Skin Texture.
Accept only bulk inquiries Looking For Distributor.
Contact Us
Mira Road (E), Thane, Mira Bhayandar, Maharashtra, 401107, India
Phone :+917259629080