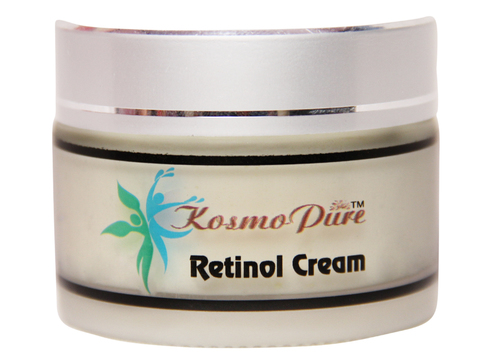 Retinol Cream
Product Code : 09
Product Description
Kosmopure Retinol/ Melasma Cream.........


Retinol,Is Best Known For Its Anti-Aging Benefits, Plays A Imp Role In Treatment For Melasma.
Melasma Is A Common Skin Condition That Occurs Primarily In Women. It Appears As A Skin Discoloration Of Dark, Irregular Patches On The Face Of Adults. Both Sides Of The Face Are Usually Affected, With The Cheeks, Bridge Of Nose, Forehead, And Upper Lip Commonly Involved. In Most Cases, Patches Develop Slowly Over Time.
Although The Exact Cause Of Melasma Is Unknown, It Is Believed That It May Be Triggered By Hormonal Changes Involving Estrogen And/Or Progesterone. These Changes In Turn Stimulate Melanocytes (Pigment Producing Cells).
Other Causes Of Melanoma Are Thought To Be Genetic Disposition And Exposure To The Sun (Generating Free Radicals And Further Stimulating Melanocytes).
The Presence Of Retinol Encourages The Development Of Healthy New Skin Cells, Unaffected By Pigmentation. Retinol Also Increases Skin Cell Renewal So That Healthy Skin Cells Develop Faster Than They Normally Would.
Kosmopure Retinol Melasma Cream Is Enriched With Retinol And Vitamin-C Which Cures Melasma
And Gives Glow To Skin And Can Be Used By Men And Women On Daily Uses
Apply Over Night.


Suggested Use:

On Daily Over Night Uses Can Be Used By Men And Women Both On The Face With Out Any Side Effects On Regular Use Of This Cream.

Benefits Of Kosmopure Retinol/Melasma Cream

Anti-Aging Benefits......
Cures Melasma.....
Reduces Patches Which Develop Slowly Over Time.....
Genetic Disposition And Exposure To The Sun.....
Increases Skin Cell Renewal.
Accept only bulk inquiries Looking For Distributor.
Contact Us
Mira Road (E), Thane, Mira Bhayandar, Maharashtra, 401107, India
Phone :+917259629080