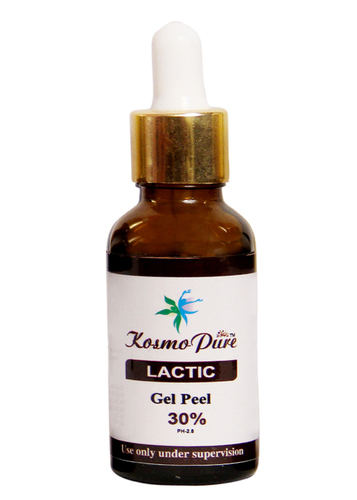 Lactic Peel
Product Code : 05
Product Description
KOSMOPURE COMBO ACID PEEL 30 % WITH COMBINATION FOR WHITENING VITAMIN C, KOJIC, LACTIC
KOSMOPURE COMBO GEL PEEL IS THE PEEL WITH INTERNATIONAL FORMULA
Lactic Acid Peels Are Alpha Hydroxy Acids (Aha). Derived From Milk, They Are Very Mild chemical Peels With Little To No Downtime. Because Lactic Acid Is A Natural Human Metabolite, There Is Less Chance Of An Allergic Reaction With This Type Of Peel.
Therefore, They Are A Good Choice For First-Time Peel Users Or For Those With Sensitive Skin. However, Dry Or Oily Skin Types Can Also Use This Peel And Get Good Results. Lactic Acid Is Especially Good For To Use For Mature Skin.
Overall, Lactic Acid Peels Are A Great Way To Treat Common Skin Concerns. How Great A Lactic Acid Peel Will Be At Fixing A Skin Problem Will Depend On A Number Of Factors Though. These Include How Your Skin Reacts, The Strength Of The Peel (Lactic Acid Peels Usually Range From 30 To 50%),
The 30% Is Very Safe When Used As Directed, But Is A Strong, Professional Strength Peel (Ph 2.8) And Should Be Used Only As Directed.
Kosmopure Lactic Peel Is A Light Peel And Is Suitable For All Skin Types And Both Beginners And Experienced Peelers.
Suggested Use:
Deep Cleaning Pores
Fading Dark Marks
Improving Hyper pigmentation
Evening Out Skin Tone
Brightening And Lightening Skin
Improving The Appearance Of Light Wrinkles
Stimulating Natural Collagen Production.........

Accept only bulk inquiries Looking For Distributor.

Contact Us
Mira Road (E), Thane, Mira Bhayandar, Maharashtra, 401107, India
Phone :+917259629080