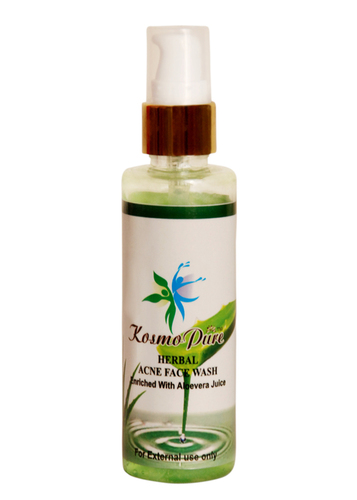 Herbal Face wash
Product Code : 04
Product Description
KOSMOPURE HERBAL ACNE FACE WASH ENRICHED WITH ALOEVERA JUICE & TEA TREE OIL
Acne Face Wash Is A Herbal Or Ayurvedic Face Wash Which Is Best Suited For Skin Because They Do Not Aggravate Skin Problems. It Cures Acne And Pimples. That Why Lot Of People Always Prefer Herbal Or Ayurvedic Face Wash ,This Herbal Face Wash From Kosmopure Is Free Of Soap, Alcohol It Contains Tea Tree Oil And Aloevera Juice, It Leaves Your Skin Squeaky Clean And Is Best Suited For People With Extra Oily Skin. It Prevents Acne And Cures Existing Ones. This Face Wash Also Contains Cinnamon And Oak Bark As Well. It Is Effective For Controlling Oil And Cleans Your Face Without Drying It Out Much. You May Use It As Your Regular Cleanser.
DIRECTION:
Apply On Wet Face And Gently Massage With Fingertips All Over. Rinse With Normal Water And Use It At Least Twice Daily For Best Results.
BENEFITS OF KOSMOPURE HERBAL ACNE FACE WASH
1-HELP TO REMOVE ALL DIRT AND DEBRIS TO MAKE YOUR SKIN LOOK BRIGHTER AND HEALTHIER.
2-REMOVES ALL IMPURITIES THAT MAKE YOUR SKIN LOOK DULL, LIKE EXCESS OIL AND TRACES OF POLLUTION.
3-HELP TO CLEAR AND PREVENT PIMPLES UNPLUGS BLOCKED SKIN PORES
4- HELP TO DIRT, GRIME, OILINESS, DEAD SKIN CELLS AND OTHER TYPES OF POLLUTANTS
5-FIGHT PIMPLES AND REFRESH SKIN.
6-EFFECT PREVENTS OVER-DRYING OF SKIN.
7-CONTROLLING OIL AND CLEANS YOUR FACE WITHOUT DRYING IT OUT MUCH.

Accept only bulk inquiries Looking For Distributor.
Contact Us
Mira Road (E), Thane, Mira Bhayandar, Maharashtra, 401107, India
Phone :07259629080