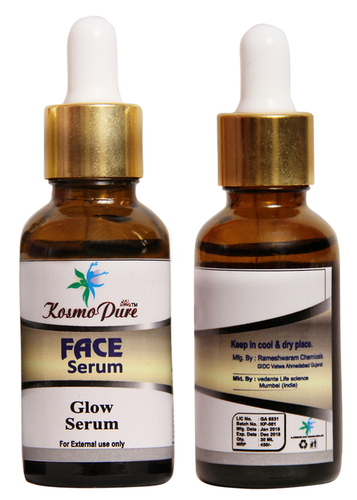 Face Glow Serum
Product Code : 12
Product Description
Kosmopure Glow And Brightening Face Serum
Kosmopurewill Minimise Sun Tanning, Darkpatches, Pigmentation & Blemishes. It Will Brighten Dull Complexions & Moisturize Your Skin Leaving It Baby Soft, Radiant And Truly Nourished.Nature'S Blessing Brightening Facial Serum Penetrates All The Seven Layers Of Skin And Heals Existing Problems & Prevents Future Occurrences.

Benefits Of Kosmopure Glow & Brightening Face Serum
Lightens Dark Patches, Pigmentation & Blemishes.
Heals & Repairs Sun Damaged Skin, Reduces Tanning, Redness And Protects Against Future Damage.
Deeply Hydrates & Moisturizes The Skin.
Balances Oil Production Of All Skin Types And Restores A Radiant Skin Tone
Brightens Dull Complexions..
Regenerates New Cells And Helps Smoothen And Soften Skin Texture.
Gives You A Radiant Glowing Skin.
Gives You A Radiant Glowing Skin.

Suggested Use:
· It Can Be Used Daily By Men And Women Both On The Face On All Type Of Skin With Out Any Side Effects On Regular Use. It Of This Serum.
Accept only bulk inquiries Looking For Distributor.
Contact Us
Mira Road (E), Thane, Mira Bhayandar, Maharashtra, 401107, India
Phone :+917259629080